Creating lifelong learners and educators who can adapt to an ever-changing global society.
Bayer Fund America's Farmers Grow Communities donation to Willow Lake FFA Chapter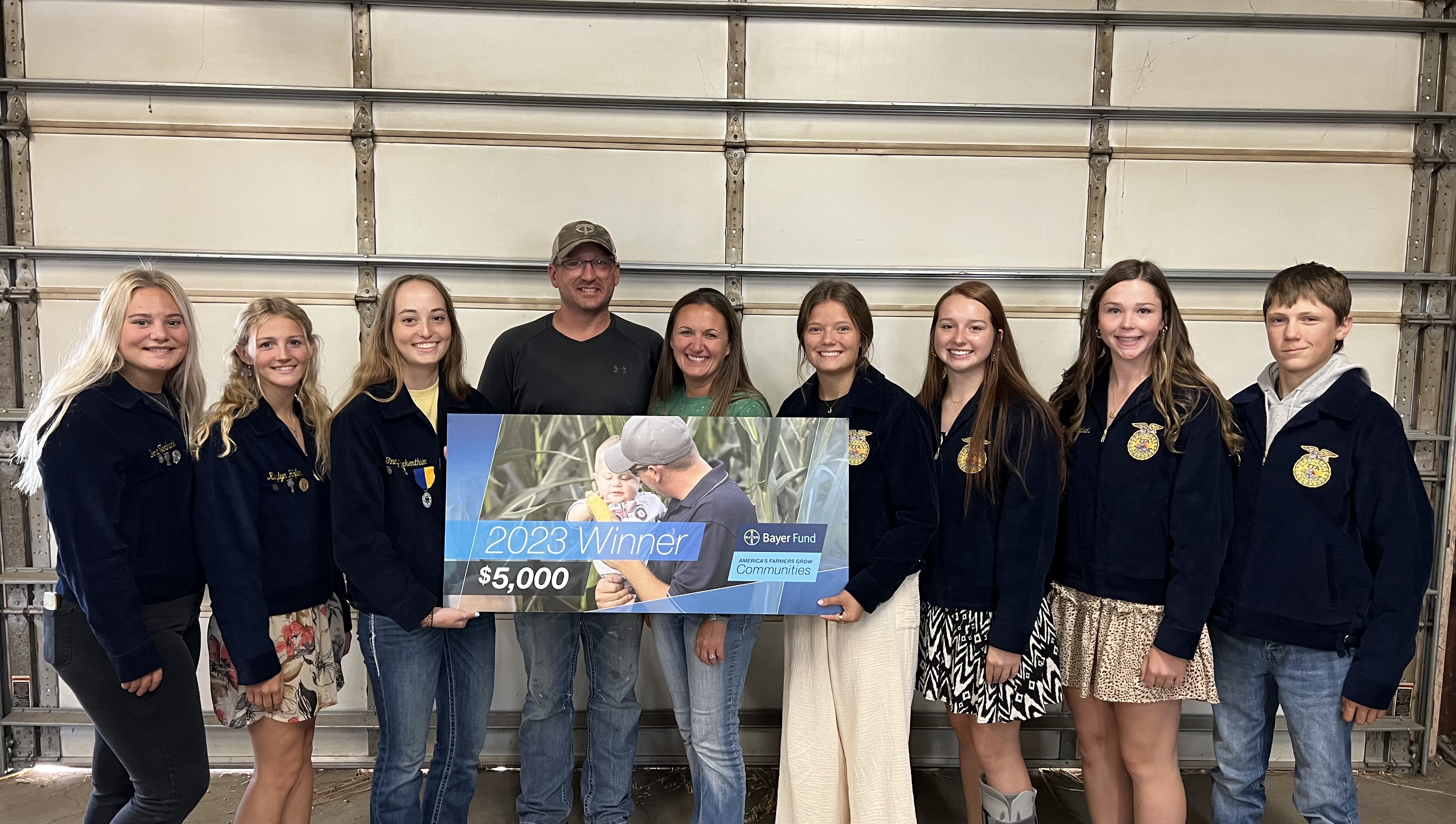 Pictured are the Willow Lake FFA officers receiving the Bayer Farmers Grow Communities grant from Tony & Lucy Vandersnick. From left to right, Nora Terhark, Kaylyn Hofer, Ginny Warkenthien, Tony Vandersnick, Lucy Vandersnick, Emma Peterson, Sami Brenden, Shay Michalski, and Andrew Peterson.
Tony & Lucy Vandersnick recently directed a $5,000 Bayer Fund America's Farmers Grow Communities donation to the Willow Lake FFA Chapter. The funds will be used to help offset a portion of student expenses to attend state & national FFA events such as National FFA Convention or leadership training events.
"The cost to attend National FFA Convention and some of the other FFA events can be quite expensive for students & families when you consider lodging, travel, & registration. Thanks to the Vandersnick's and Bayer, the FFA will be able to pay a portion of these expenses to make these types of experiences more affordable for FFA members and their families. We certainly appreciate the Vandersnick's thinking of our organization and taking the time to nominate us for this grant from Bayer" said Dan Tonak, Willow Lake FFA Advisor. Since 2010, the America's Farmers programs have awarded nearly $65 million to nonprofits, aspiring ag students and public schools across rural America. Farmers are leaders in their communities, which is why America's Farmers programs rely on them to help identify the worthiest causes.
Dedicated to making a difference in rural farming communities, the Grow Communities program asks farmers across the country to participate by nominating nonprofit organizations with resources to strengthen their local communities. Last August, farmers entered for the chance to direct a $5,000 Grow Communities donation to a local eligible nonprofit of their choice. Farmers have directed donations to food banks, emergency response organizations, schools, youth agriculture programs and many others that reflect the spirit and support the vibrancy of rural America.
"Bayer Fund is proud to work side-by-side with farmers to identify local eligible nonprofit organizations that are able to provide their residents with solutions that leave a lasting impact," said Al Mitchell, Bayer Fund president. To learn more about how America's Farmers are making an impact, visit www.AmericasFarmers.com. About Bayer FundBayer Fund is a nonprofit organization dedicated to strengthening the communities where Bayer customers and employees live and work by providing funding for food and nutrition, education and community development projects.
The mission of the Willow Lake school, a small school with an exceptionally rich history of strong community and alumni support, is to create lifelong learners and educators who can adapt to an ever-changing global society by engaging in a rigorous and innovative curriculum in a secure and positive environment.